One of the most popular forms of marketing in 2021 is influencer marketing. Every day people are reaching out to influencers to sell products and services while offering handsome rewards to the influencer themselves. Through the use of incentives and other rewards, these influencers are given tons of reasons to sign up for a brand and promote that brand to their followers.
Influencer marketing has become one of the most important forms of marketing for your brand. It has now become a big reason for success within smaller and bigger companies across the web.
If you are a business that is looking to grow online and you need more brand awareness and a different approach to your current marketing strategy, you may want to consider influencer marketing for your next campaign. Right now, 42% of marketers believe that influencer marketing can have a massive effect on ROI and 89% believe that it can be effective for a new marketing campaign.
So, now that everyone is aware of the benefit of this form of marketing how do you set yourself a part from the pack? How do you find influencers that will provide a higher ROI for your campaigns and provide you with the ability to grow? Well I would like to help you out in this new post.
In this new post, we will be doing a deep dive into how you find influencers for your brand and give you the best means for success when it comes to influencer marketing. In this post you will get the ability to learn about who you should be reaching out to, learn about creative outreach, gain a better understanding of the best way for influencer outreach and helpful tips that can push your brand forward with influencer marketing. We will give you the keys so you won't have to look elsewhere for them.
(We will be providing links to some valuable content that can help you boost all your marketing KPI's for the rest of this year)
What Is Influencer Marketing & Why Should You Care?
Influencer marketing is the form of marketing that seeks to engage with people who may be niche, though leaders, celebrities, or even bloggers with a big following. For most, Instagram has been the most popular place to reach out to influencers and for good reason! Instagram is a place that has changed dramatically and for a lot of brands, it can be a large task to grow following on the platform these days. Influencer marketing offers a proven solution that seeks to give marketers the chance to truly make an impact for their brand. This form of marketing has led to several sales for some of the biggest brands in the industry. So why should you care? Take a look below to find out.
Influencer marketing can boost brand awareness
Would you like some examples of someone who has been using influencer marketing to perfection? Look no further than Adidas. I recently saw a case study about Adidas #myneoshoot campaign where they were able leverage celebrity endorsements from American singers to promote their products. Of course the campaign was a huge success, Adidas was able to create an image for themselves as a young athletic brand that will never go away. You can check out the full case study for yourself!
People buy products online more then ever these days
It is crazy how many people purchase things online these days especially due to the current state of affairs we have going on right now. Here is a state below that might surprise you.
86% of women use influencer advice to determine a good product and this trend will only continue as more and more people continue to buy products online during these times.
It is not a phenomenon, people want to purchase from influencers which means you have to do your part and find influencers that can provide a great boost in ROI for your brand and give people the best ways to find your products!
No matter what stage you may be in with your branding campaign, you will find that a influencer marketing campaign can be the difference maker for your company moving forward.
How Do You Actually Find Influencers?
1. Utilize Google To Start
Google has tons of ways that you can utilize the platform to find influencers. One of these tools is Google Alerts. On this tool you can make alerts to find out news within your niche and the people that are influencing it the most. Word of advice, it can get a little annoying receiving these daily so I would recommend you do it weekly and get a weekly summary of news from the past week. This will allow you to stay up-to-date every week with news in your industry and find people to reach out to.
You can also, just do an advanced search and find some of the best influencers in your industry. This can allow you to truly find people that appeal to your brand and possibly give you the best chance to win with influencer marketing!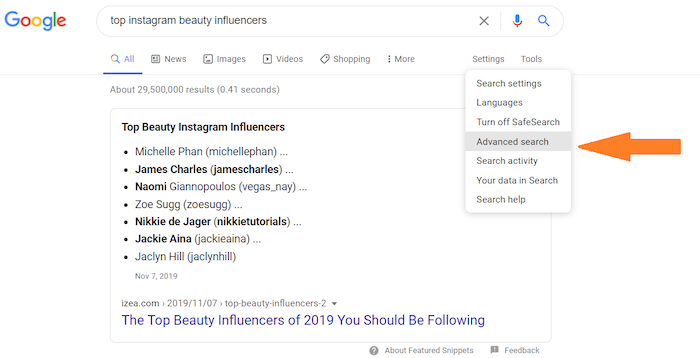 2. Next, Start Using Hashtags And Utilizing Social Networks
One of the most successful social networks are Facebook and Instagram. Both of these networks are great for finding influencers who are making videos and pictures related to their brands. They are using their power to find influencers that will truly give the best return. Hashtags are an extraordinary way to stay updated on your niche and find people that are providing thoughts and knowledge on a consistent basis.
Social networks are the place where you need to be when it comes to reaching out to influencers. You need to be able to be able to give warm introductions to your content and give people incentives to continue to listen. Sometimes you can reach out to people that are in the same industry or would like to promote a cause, in a case like this, it might be easier for your business to reach out and provide value to them!
[Check out my blog post about the power of hashtags below]
What Should You Look For With A Influencer?
A influencer should suite your brand. If you are in the type of industry that doesn't need or use influencers then this post is not for you but if you are, then below I will provide some great insight into what you should look for, with your next influencer!
Conversationalist
You want an influencer that is ready to speak with their followers, a person who is always commenting and gaining great feedback on the videos that they produce! You want someone who is passionate about the knowledge that they are sharing on social media too. Look for those influencers that take the time to comment and provide quality content that takes into account their audience.
If an influencer is taking the time to make comments and comment back on people's post with quality content then this might be the best person to reach out to now. You want that person that is not afraid to look bad under their post, they just want to get their word across.
Know Your Influencer
What platform are you looking to find an influencer? Is your audience into video? You might want to reach out to Youtube influencers. What if your audience is into visuals? Might want to check out instagram. These are the best means for your brand to truly make great headway. Identifying who you are and self actualizing how you see yourself is so important when you are looking to become a better brand!
Goal Matching
So you are the company and you should never forget the type of effect that you are hoping to make with people. You should take the time to actually visualize for yourself, the type of goals you would like for your brand. This will give you the opportunity to truly make an impact on your brand. Whether you are looking to grow brand awareness, engagement or build long lasting relationships. You need to be able to find influencers that match that mission. Be able to find influencers that would like to be a member of that mission that you would like to build for yourself.
What Are Some Ways You Can Use Influencer Marketing For Your Brand?
Do Brand Gift Giveaways
One popular form of influencer marketing being used these days is brand giveaways. One way brands can truly partner with other influencers is by doing sponsored videos that giveaway different items to the first 3 likes, comments, and more! This allows your audience to receive items just for participating and interacting with the influencer. This is a great way to build conversation around your brand and provides you with high levels of engagement for your brand!
I saw this done on one of my favourite Youtube channels for planting. Summer is giveaway cedar bed planter in this video below and she puts that in the Youtube title to bring awareness to the video. This is a micro influencer who is promoting a giveaway for her niche audience which we will touch more on, below. If you have a niche brand, this might be a great way to bring awareness to your brand through a very niche channel on Youtube!
Partner up with influencers of different podcast
This one has become even more popular these days. People are listening to podcast like crazy and one trend that has become popular is celebrity podcast. More and more celebrities are hopping on these channels to sponsor different products and give people the means to build brand awareness.
This will allow influencers to promote you at the beginning, end or middle of their shows. For those who are looking to gain a following in their business this could be a profitable way to do it. Some of the most popular businesses using this form of influencer marketing is Audible. They have done a great job at making a name for themselves by offer a great package for their influencers and utilizing podcast to promote themselves.
Most common: Instagram sponsored post
69% of US marketers spend that influencer budget on Instagram. So yes, instagram might be one of the places to effectively gain a following for your brand. This is a place where your brand will get noticed which will give you the ability to truly show off what you can do with influencer marketing.
This also means competition is very high which means you might need someone who can provide creative outreach strategies for your influencer marketing campaign. Reach out to my email for more on this here. I have been able to create thousands of personalized emails and direct messages and I am ready to provide you with this service for free! Just message me and I will send out your outreach to find influencers.
Anyway, Instagram is here to stay and people love to receive advice from influencers on a daily basis so you should try your best to reach out to influencers so they can provide you with sponsored post for whatever product you may be promoting!
What Types Of Influencers Should You Be Reaching?
Influencer marketing has many vines for you to climb down. So many different types of influencers are out there and it can be a hard task to figure out the best person to reach out to for your brand. This is where I come in. For marketers it is important to know the goal that you would like to achieve when it comes to your next influencer marketing campaign.
For the campaign above, adidas wanted to boost brand awareness and provide a better a better understanding of their product offerings. What if you are in a different stage? Well if that is the case, you may have different goals for your brand. Taking all that into account, you should probably recognize that you have many options when it comes to influencer marketing.
From Bloggers, to thought leaders, to micro influencers, to celebrities, you will find that you can reach out to several influencers that will have a profound influence on your brand. To figure out what types of influencers might be right for your brand, you might want to do a deep dive into what you are looking to achieve from the start.
Below you will find some examples of influencers and what type of business might be a good fit for this type of influencer.
Bloggers and Vloggers
These are the influencers that will be able to take your brand to new heights. Bloggers are a great source of influencer marketing because they are usually consistent. They allow you to promote your brand on a very consistent basis because bloggers are usually the ones that post daily and weekly which could be great for those who are looking to find influencers that are consistently engaging and finding new ways to give knowledge to their audience.
I think that is what sets these influencers a part from the rest, they take the time to give you long reads or videos about their lives and their interest through the use of blogs and videos. People trust those who are constantly giving great pieces of advice and constantly finding new pieces of information that can push people forward. This is why they make such great influencers.
What should you be looking for when choosing the right blogger?
How much engagement are they getting? (Any comments?)
How niche is the content? (Does it align with yours?)
How often do they post? (Will this be enough for your brand?)
How do you find these influencers?
Bloggers and Vloggers make it easy for people to contact them. Most of us bloggers have contact pages that give people the means to contact them directly or they will give you their email. These are people who want you to contact them and pitch your incentive and package to them over email or other means.
This can allow you to truly make an impact on your brand by signing one of these consistent bloggers on to your team. I have found that bloggers are usually omni-channel individuals. Several bloggers have Pinterest and other mediums that they use to promote their blogs. This means that you might be finding a diamond if you get the chance to sign one of these influencers on to your team!
Lastly, go the easy route sometimes. Just leave a comment on the blog post and people might answer you, it could be a easy process.
Micro-Influencers
As we touched on Summer's videos earlier in this post, I wanted to bring attention to micro-influencers. These are the types influencers that will provide you with the best ROI in most cases. These are the people who are seen as experts in their field and have a larger follower count but not to extreme levels (10K-100K). Sometimes size matters and sometimes it does not, for some people too many followers can be a bad thing, check out this post about influencer follower count for more on this.
These are people who are seen as relatable to the general public and they provide awesome advice for their followers. These influencers are so important for those who are looking to get the best bang for their buck!
How do you find these influencers?
Take a trip to social media and see which influencer not only falls into the right amount of follower account but they also have tons of people giving comments. Not just any comments, these are comments that are well thought out because they have read the post and now they would like to comment.
These are loyal fans, these are the people who take the time to give details about their dislikes and likes and are honest about how they feel about the post. Afterward, look at the comments from the influencer themselves, are they engaging with these people? Are people liking those comments that the influencer is comment on? Get into the habit of watching for social interaction, it can be a game changer when you are looking for someone to influence your brand.
Another idea, could be referrals. Reach out to someone who might know someone else who has had contact with this influencer and touch base with them! This can allow you to reach more people within a reasonable period of time and with great success.
Mega-Influencers
As you can already imagine, these are the people who are touching base with a large group of people. They allow your brand to reach a broader range of people and could be the big break some brands might need for the long run! These influencers are like a super-bowl commercial, as they are expensive but have big pay off.
You might want to reach out to these influencers are on a consistent basis if you want to get their attention or find a creative way to reach out to them. 60% of teens follow the advice of these influencers then they do with celebrities. So yes, big pay day if you can bring one of these influencers on your team.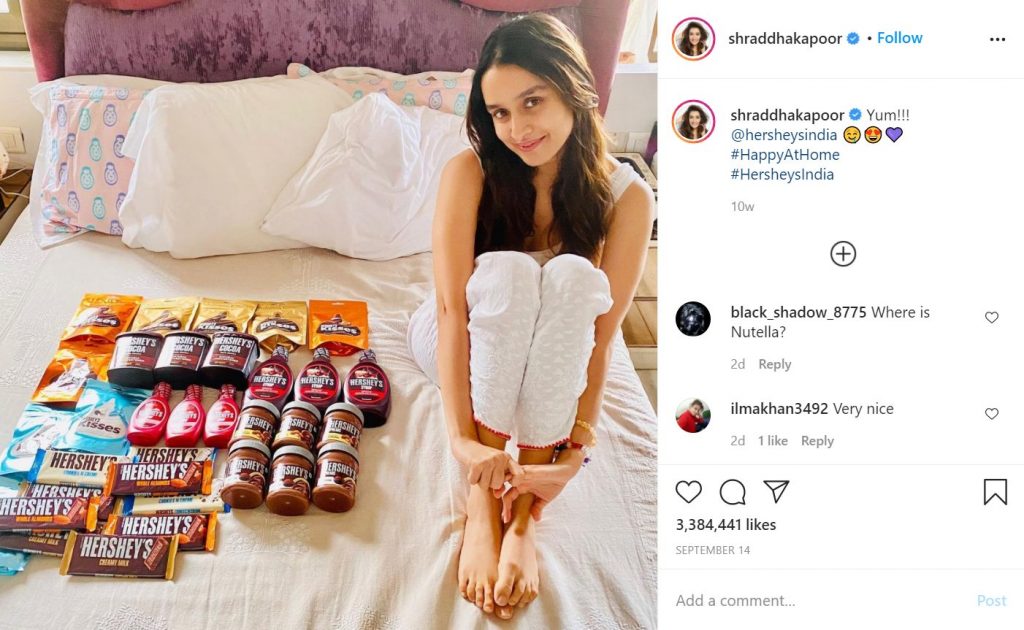 How do you find one of these influencers?
Now here is an easy one. The great thing about these influencers with 1million followers is that everyone knows how to find them. They make it hard for you, not to find them! This means that the biggest thing you should focus on is you and your brand. What kind of message are you looking to make with this influencer campaign? When it comes to these influencers it comes down to you and the company you are looking to build. Do you want more brand awareness or do you want to engage with a niche group of people who will become more loyal prospects down the line? Answer these questions and then do everything you can to reach out to these influencers!
Wrapping Up
So if you are looking for an influencer and you are having trouble, I hope this new post provides you with some valuable insight into how you might be able to land a big fish influencer for your company needs. It all comes down to you, be someone that effectively looks to fulfill their brands mission. Be able to follow the route that you would like to take your campaign without being influenced too heavy by other brands. Your uniqueness will set you a part from the rest and you will find the influencer that is best suited to push that unique mission even further.
Take a look at some of my other guides below: